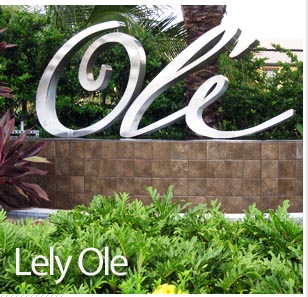 Rates (in US Dollars)


FULLY BOOKED UNTIL April 3rd 2016

For 2016 rental rates and availability calendar, please go to:
www.vrbo.com/788668

Lease application fee: $100.00.
Cleaning fee: $120.00.
Federal & County taxes: 10%.

RENTAL RESTRICTIONS FOR BOOKINGS UNDER ONE MONTH DURATION.
No Smoking - No Pets
Mention LelyVacationRentals.com

Contact Michael Fawson
Phone: (239) 331-6858
(Florida, Nov - April)
or
(416) 201-9709 (Toronto, May - Oct)

Email:
michaelfawson1@rogers.com

REVIEWS:

Michael and Rhonda are friendly, responsive, enthusiastic owners. Their unit looked absolutely wonderful on the website and was even better in real life: decorated beautifully, spotlessly clean, attractively furnished and very comfortable. The bed made me feel like I was in heaven, the reclining sofa was perfect for doing nothing, watching tv or surfing on my laptop, the swiveling bar stools at the breakfast bar were just right for snacking, and there is a large clear table with six elegant chairs for more formal dining.

The kitchen has everything - pots, pans, dishes, crockery and cutlery, all in excellent condition, with aluminum foil and cling film provided. The two closets have ample hangers, drawers, bath towels and beach towels. The splendid pool at the town center is suitable for adults and children, there's a spa bath, a library and a computer room. This is a great place and i recommend it highly.

Aldo N., Swindon, England, December 2015

My wife and I took our first road trip from Toronto to Naples, Florida (and our 2 year old daughter came along). We were delighted to find that the 2-bedroom condo was exactly as promised. Modern, clean, spacious and safe…with all amenities such as cable TV, washer/dryer, Wi-Fi, secure garage parking, modern clean kitchen appliances, ample clean towels, and very hospitable and down-to-earth hosts (Michael and Rhonda). The resort facilities include swimming pool, restaurant, ice cream shop, movie theatre and planned activities for kids/families made our stay even more wonderful. The friendliness and kindness of our the hosts, Michael and Rhonda, was a beautiful bonus.

Michael R., Toronto, Canada, May 2015

Lely Ole Village Town Center Amenities »
Welcome to resort style living with all the comforts of home! Our brand new air-conditioned condo is the San Clemente design, on the ground floor with no stairs. The master bedroom has a king-size bed, ceiling fan and a brand new flat screen 22'' television with a walk-in closet, adjoining bathroom and linai. The second bedroom comprises twin beds and an adjoining bathroom and linai. The open concept living room has a brand new flat screen 42" television with Bluray DVD player. The kitchen has granite counter tops and brand new appliances. 2 car garage.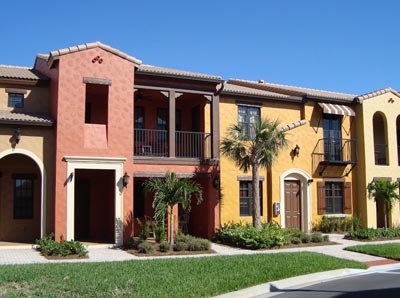 As a guest, you will have full access to the village center where you will be able to enjoy the stunning lagoon swimming pool, tiki huts, lounge chairs, hammocks, hot tub, beach volleyball court, separate kiddie pool and poolside service from the restaurant/bar. At the center, there is a movie theatre that shows free movies at the weekends. There's a computer library and an internet café with complimentary coffee in the morning. There's a gym with state-of-the-art equipment, personal trainer and fitness classes. Ole has two private tennis courts and a basketball court. Lely resort offers two public golf courses. Shopping is close by. Ole is close to Naples and Marco Island beaches. We have two other rental properties in Lely if you want to bring additional family members/friends.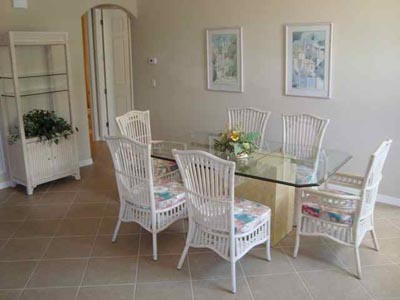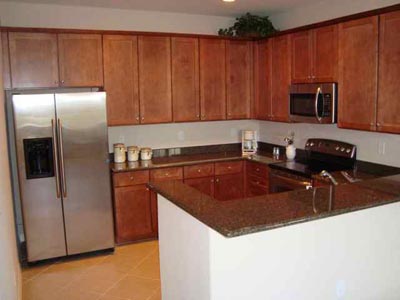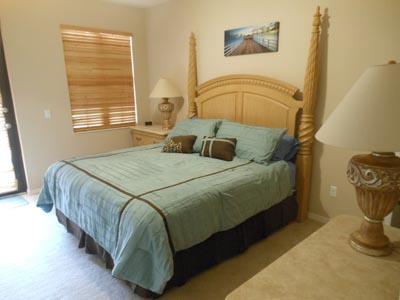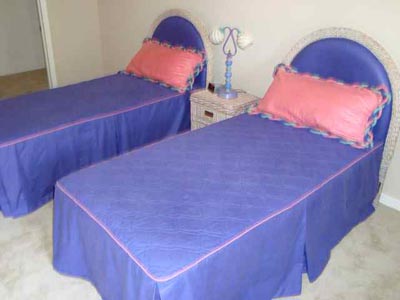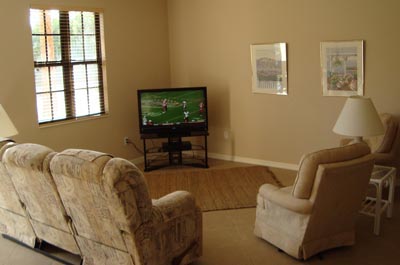 Floorplan of Lely Ole San Clemente - A two-bedroom, two bath ground floor condominium with an attached two-car garage and 1,404 square feet: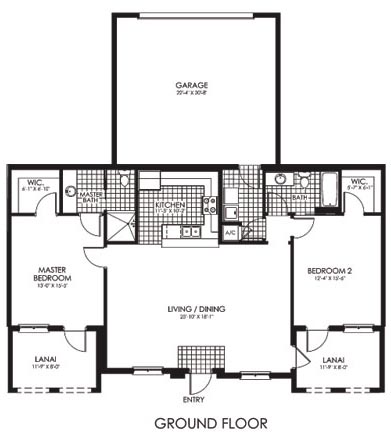 copyright ©ci-Interactive, all rights reserved.
Website design, hosting and marketing by
ci-Interactive